​His hands were sturdy and cautious as he went about his works. His eyes static on what he was doing.
Omar Mohamed, a 25-year-old man saw an opportunity of working with his hands and seized it.
A year earlier, Omar was still using his hands to make people's shoes shine; he was a shoe shiner. With no formal skills, this was the only thing he could engage in.
More than 70% of the Somalia population under the age of 30, which is about two-thirds are believed to be unemployed. Lack of education on marketable skills prevent them from obtaining jobs in the formal sector.
Omar seized an opportunity to go to Kismayo Technical Institute (KTI) in Kismayo after a relative living with his uncle and who was attending the institution told him about it. Through his uncle's influence and encouragement, he joined the institution and opted to study mechanics.
"I have always been interested in driving and repairing vehicles. There is a need for repairing vehicles in the community and one needs to have the skills."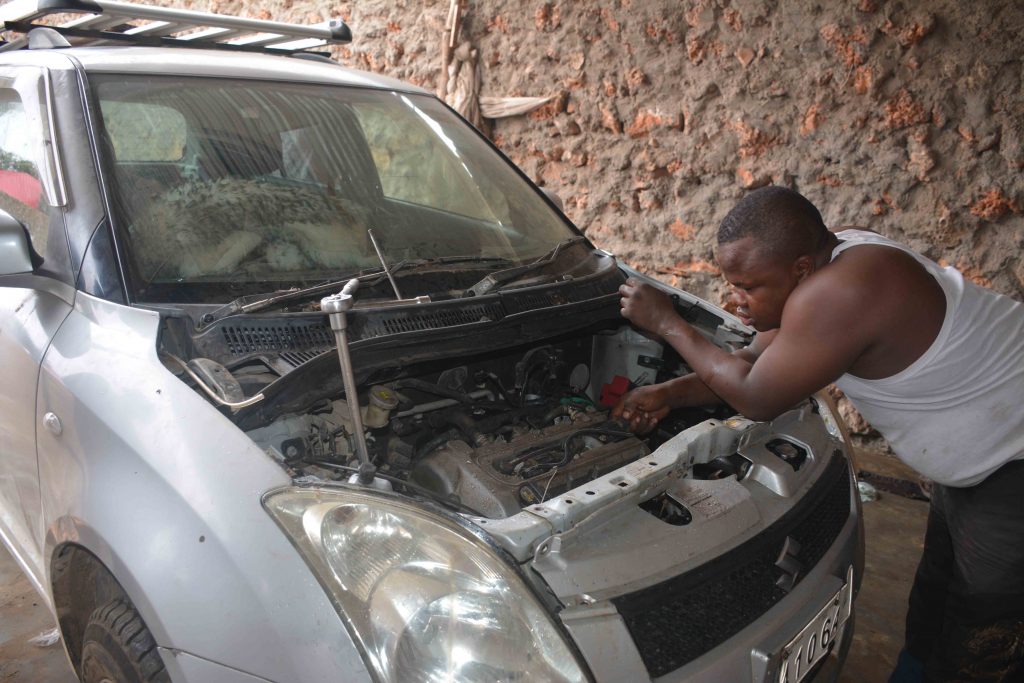 And so, in January 2017, Omar was able to gain more knowledge on his interest.
"We were taught on brakes, cables, minor repairs, how to repair and set the complete engine of the vehicle, how to connect things to the engine among other things."
ADRA Somalia has been working with three vocational training centres in Galmudug, Kismayo and Gedo regions under the SEAQE (Strengthening Equity, Access and Quality in Education) project since 2015 to provide skills training targeting the youth as a strategy of employment.
With an entrepreneurial eye, Omar together with seven friends came together to start a garage after completing the six-month course.
He already saw his future in the present.
Equipped with knowledge gained and an idea, Omar and his friends decided to approach an investor to help them with start-up capital.
"We went to pitch our idea to an entrepreneur to fund us. He listened and accepted our business idea," he says.
Equipped with 2000 USD loan for the garage. Omar and his friends found a place to establish the garage and buy materials. And the Dayrel garage was formed.
And as the name suggest they care for people's vehicles with the passion that they have for the trade.
Officially opened in August 2017, the business is growing steadily.
"In a day, we approximately, repair two vehicles. Repairing an engine takes at least three days and we charge 100 USD. For other repairs, we charge between 15-20 USD."
"Our profit after deducting all the expenses is around 150 USD per month."
His status in the community and family has now changed and he is able to take care of his family. Pay bills and even support his extended family.
"We have been able to repay the loan we were given and now we have 1000 USD left."
New knowledge and skills opened the door for him and he stepped into endless possibilities of opportunities.
"I am proud that I moved from being a shoe-shiner to a mechanic."
His advice to his fellow youth is one. "If you don't have knowledge, you need to go back to school and study," he states.
SEAQE is a NORAD funded project, implemented by ADRA Somalia and seeks to increase education opportunities for poor and marginalised children in Somalia. The project focuses on youth engagement and empowerment including education, vocational training and employment promotion services.