The school was no ordinary place. It was a place of dreams. It was a place of hope. It was a place where children came for a reason. It was a place of learning.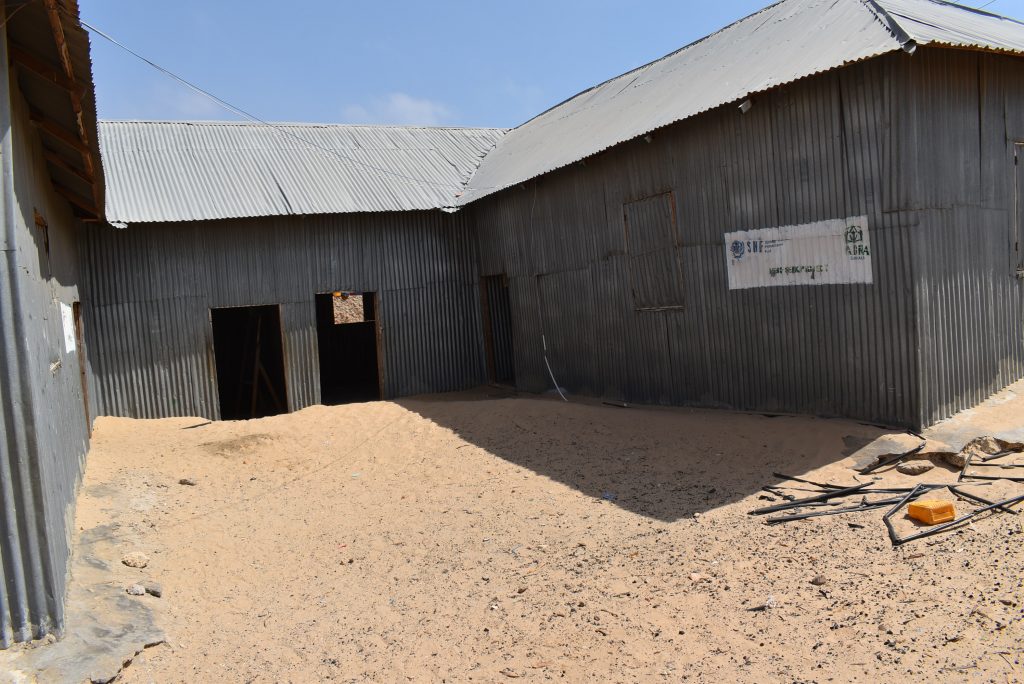 For 12-year-old Omar, being in school is priceless. It was a place of learning.
"I love coming to school because I like how we are taught. All the subjects are good, but my favourite subjects are English and Arabic," declares Omar.
Omar attends Barawe Temporary Learning Centre, in the larger Dalxiiska IDP camp in Kismayo District, Lower Juba Region.
He came to learn about the school from his friends who were attending the school.
"I would see my friends going to school and when I inquired, they encouraged me to go to the school as it was free."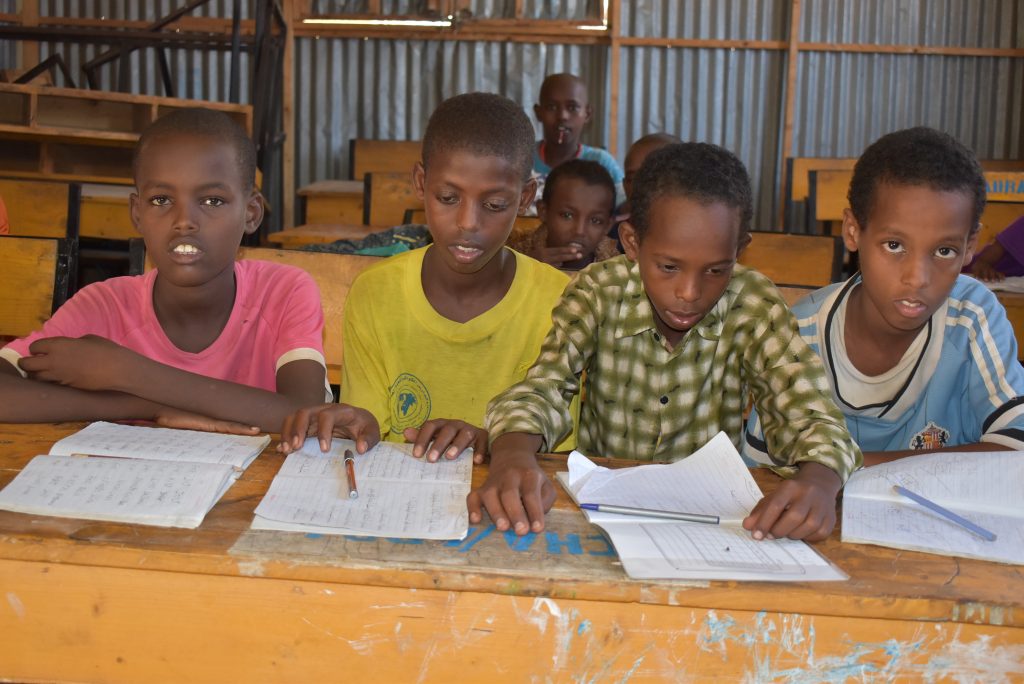 According to FSNAU reports, Lower Juba region is home to around 165,000 IDPs. The bulk of whom are in Kismayo District. A significant number of these IDPs (40%) are within school going age (5-19), with a significant number of these being out of school.
For Omar, who is in class 3, his place of hope is being a teacher.
"I would like to be a teacher because it is a good career. It will also allow me to bring up Somali children who are educated."
The school also benefited through the school feeding programme, where the children received two meals a day. Porridge in the morning and rice with beans at lunch time.
"Learning was comfortable, and we had many children, "noted Omar. "We often went home for break and lunch time but during this time, we ate at the school and had plenty of time to play and read," he adds.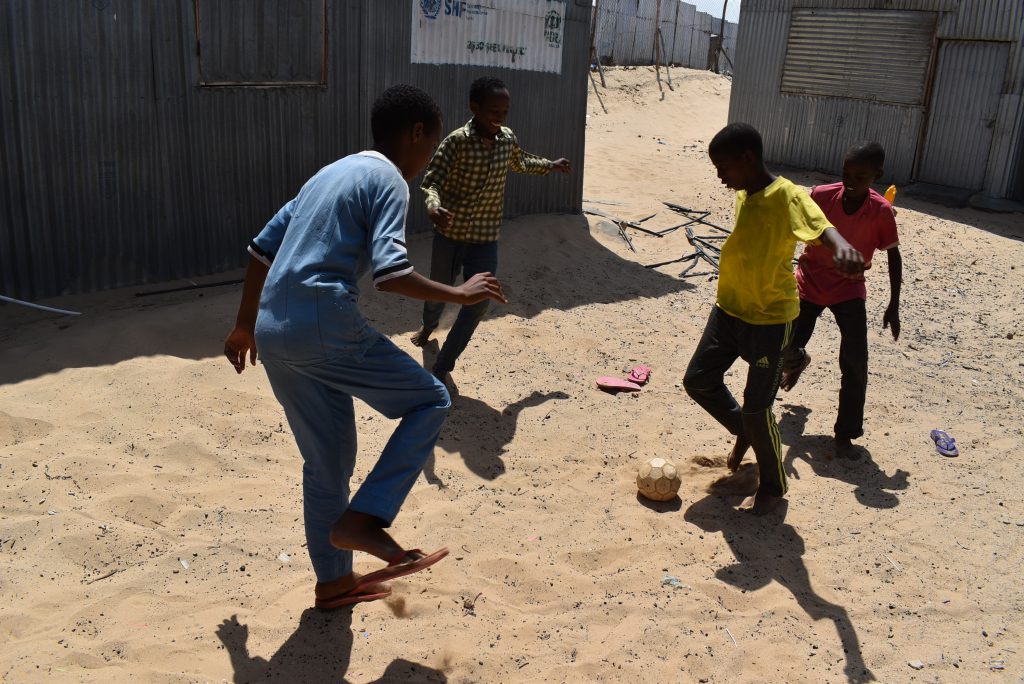 With support from OCHA, ADRA through the Enhanced Access to Sustained Education Service (EASES) project supported 12 schools in Kismayo where the community depend on crisis-coping strategies for food consumption. The school feeding programme targeted 3, 087 school children but was able to reach a total of 3, 473 vulnerable school children. The feeding program lasted for five months (August-December).
"When we had the feeding programme, we had an increased enrolment of pupils because there was food as most of them lack food at home," says Aden Diriye, the deputy head teacher.
Omar enjoyed the moment and is grateful to the donor.
"Feeding and learning was encouraging, and I would like for the donor to continue with it," he pleads.
In Beder Model school, the script was no different.
For Fardumo, who is in class seven at the school, the feeding program was time saving.
"The feeding saved us time. Instead of going home, we ate here and then had time to read our books as well as do our homework," she says.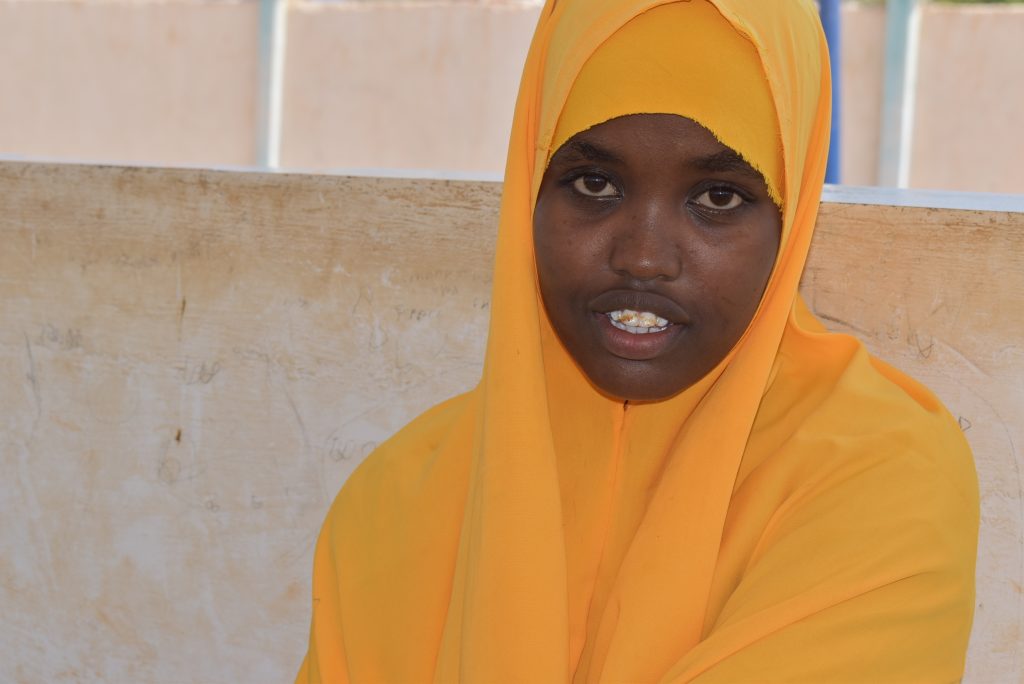 The school also experienced an increased enrolment during the feeding period.
"Some of the children depended on the food and that is how they survived with the morning and lunch time meals. There was therefore an increased enrolment. The school had about 1,700 pupils at the time, twice as much as the usual number" says Sabrin Aden Dahir, a teacher at the school.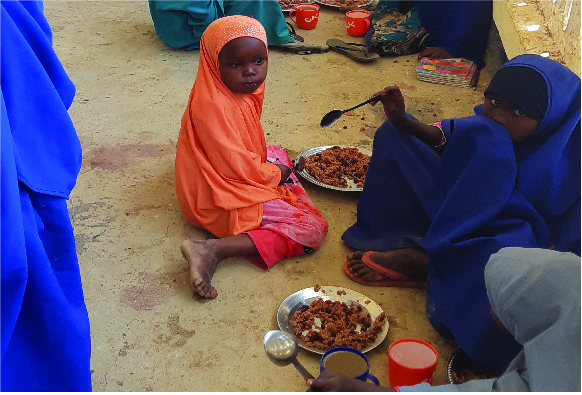 Circumstances like extreme poverty make children not attend school. According to FSNAU/FEWSNET, Kismayo has a high number of children from IDP populations and children from very vulnerable host community households face severe food insecurity.
The Enhanced Access to Sustained Education Service (EASES) for vulnerable IDPs and host communities in Kismayo District was aimed at ensuring emergency and crisis-affected children and youth in IDP and host communities, including those in hard to reach and undeserved areas, have access to sustained quality, holistic, relevant and integrated emergency education services. The project targeted 4,081 children and youth in the great Dalxiiska IDP camp in Kismayo.