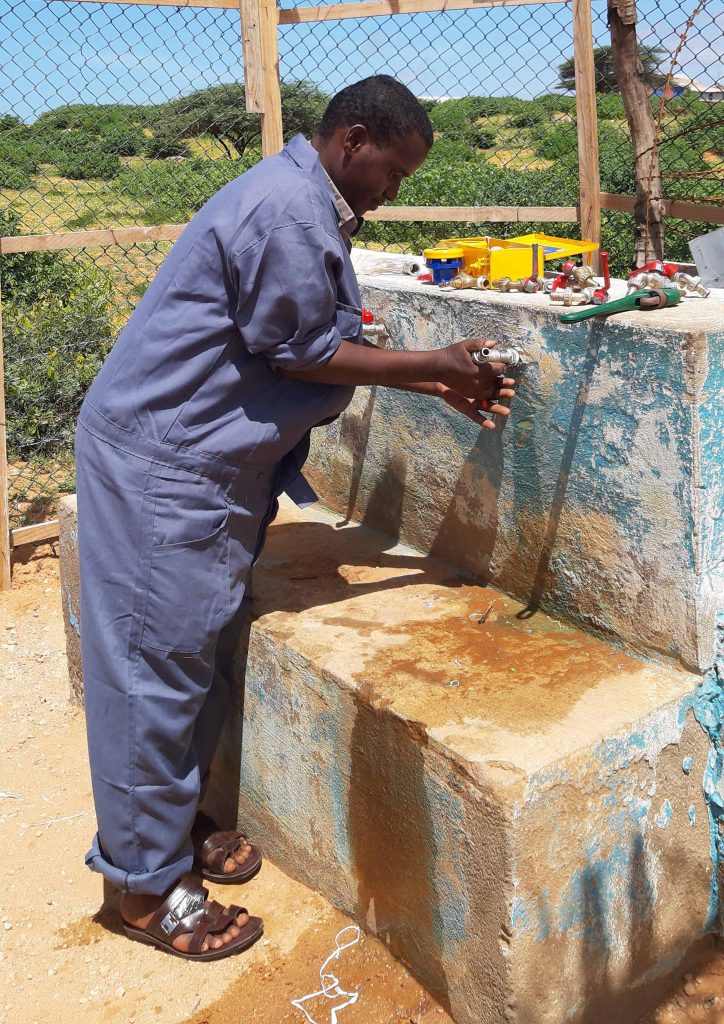 When you do something good from your heart, and you stand back and look at your handiwork, only one word can describe that feeling: Pride.
Proud is how 22 year old Abdillahi Mahad Shalle, felt every time he fixed something and his customers were satisfied with the work done.
"This is a good skill and I feel proud about it," he exclaims.
Abdillahi took plumbing skills course at Dalxiiska Training Centre in Kismayo, where he learnt, among other things, piping, hand pump fixing, electric pump fixing, and solar pump fixing.
"This training changed my life for the better. I now work for Juba Water Supply as a plumbing technician and sometimes I also do some private work independently," he proudly says.
From his work, Abdillahi is now able to get his daily maintenance.
"The training was well taught, and I know I am a good plumbing technician. On average I earn US $ 15 for every work I do," he proudly says. "I'm now able to comfortably provide food for my family as well as buy somethings for myself," he declares.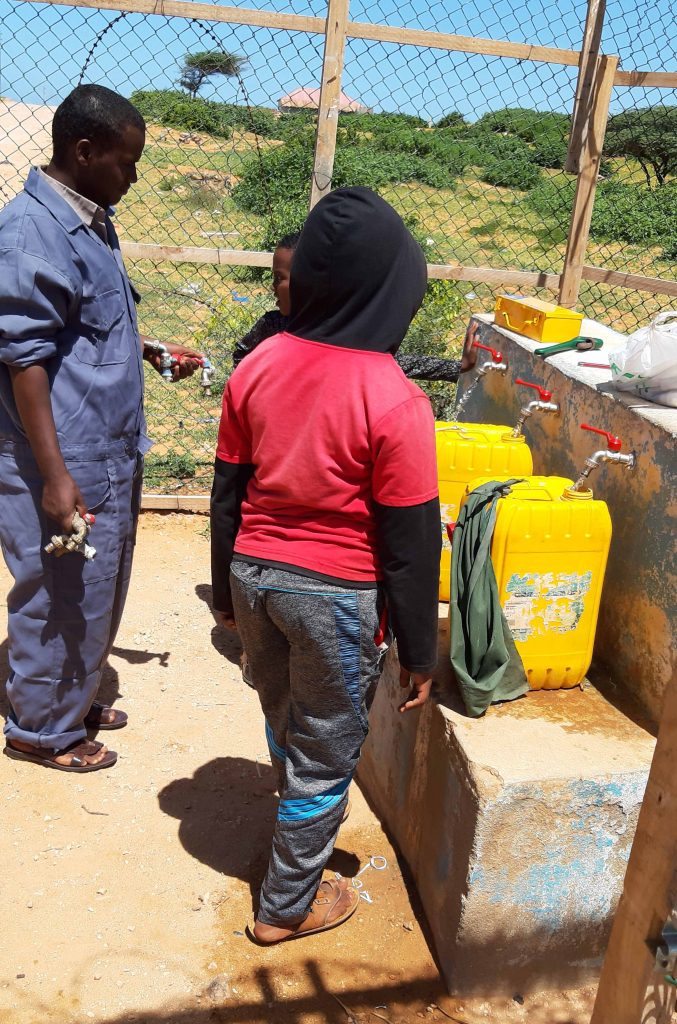 Being independent has been an adventure for Abdillahi and has changed his lifestyle. He is also able to manage his life. Before the training, this was just a flicker of hope in his mind as he depended on his mother for everything.
"I was jobless and dependent on what my mother earned from her small shop," he reveals.
Having dropped out of primary school due to lack of school fees, getting any job was difficult since he didn't have any skills but Abdillahi was open to whatever opportunity that would come his way.
And when an opportunity came, he didn't think twice about it.
"One day camp elders came to my home informing me about ADRA's training. I decided to take this opportunity to do the plumbing course after being told the courses that were being offered," he says.
In collaboration with UNICEF and state authorities, ADRA through Youth Engagement in WASH Services (YEWS) project, established the Dalxiiska training centre in Kismayo to train youth on various courses like plumbing, hand pump and electromagnetic pump repair; solar installation and repair; latrine construction and desludging; and soap making and henna application.
Abdillahi chose plumbing because he believes that it is a skill that is needed everywhere.
"This is a marketable skill and every house and institutions need plumbing services," he asserts.
And in just a few months, Abdillahi was able to achieve so much, including respect.
"This is a marvelous achievement for me. I don't only earn an income, but I have also gained respect from the community and family members because I am able to cater for their needs where I can," he declares.
Regardless of his great achievements, Abdillahi is fearful of the impact that the coronavirus is having on the community as many people have no jobs and no money.
"It's a disaster," he sums it up. "There is no food in the IDP camp, and I have to provide food to three families of my relatives," he says.
Somalia reported the first COVID-19 case on 19th March 2020. Since then, 3,015 cases have been confirmed as of 7th July. In Jubaland state of Somalia, 189 cases have been confirmed in the same period.
Despite the virus' negatively impacting on people's livelihood, Abdillahi is grateful that he can work despite there being few work opportunities coming his way compared to the period before the virus.
"The course was practical; I do. I understand. That is what has made me achieve a lot and work with a leading water company here in Kismayo," he says.
"I would, therefore, urge the youth to learn new skills, so that they can manage their lives," he concludes.
Approximately 292 youth (147 males; 145 females) aged between 15-30 years hailing from various informal IDP settlements were trained through ADRA's programme at the Dalxiiska Training Center. The training has empowered the youth who are now gainfully engaged in the improvement of WASH services in Kismayo and other locations.
The Youth Engagement in WASH Services (YEWS) project was aimed at increasing community access to WASH services and youth engagement through water, sanitation and hygiene vocational training and work in IDP settings in Kismayo, South Central Somalia. The project targeted the great Dalxiiska IDP camp in Kismayo District with an estimated population of 52,950 persons and the outlying villages in Kismayo.