In Somalia, drought and conflict continue to be the main drivers causing displacement, with more than 2.1 million people displaced. The youth and the young adolescent make a significant proportion of this displaced population. When engaged in meaningful productive work, they reduce the vulnerability risk and contribute to the development of their society.
In collaboration with UNICEF and state authorities, ADRA through the Youth Engagement in WASH Services (YEWS) project established the Dalxiiska training centre in Kismayo to train youth on various courses namely:
Plumbing, hand pump and electromagnetic pump repair.
Solar installation and repair.
Latrine construction and desludging.
Soap making and henna application.
Some of the students share their journey.
Solar Installation and Repair
15-year-old Farduso Ibrahim should be in school but due to lack of school fees, school was elusive. When she was selected to take up a skill of her choice, she chose solar installation.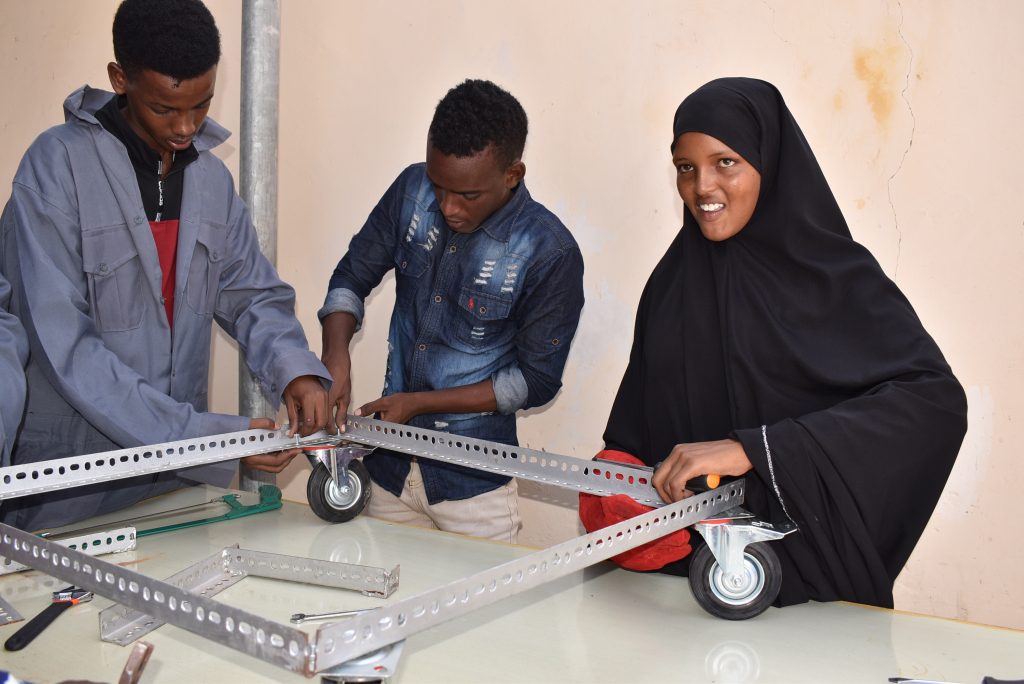 "I chose solar because there is a lot of opportunities with solar. I may not climb the roof to fix the solar, but I can open a solar shop and sell solar items. I also want to be one of the few ladies working in this skill. Starting out will not be easy but I hope that once, I am settled in this area, I will open a shop to repair solar and sell solar items. I hope to earn at least US$ 10 for solar repairs."
Plumbing, handpump and electromagnetic pump repair
Abdirashid Gulad Roble felt like there was no hope.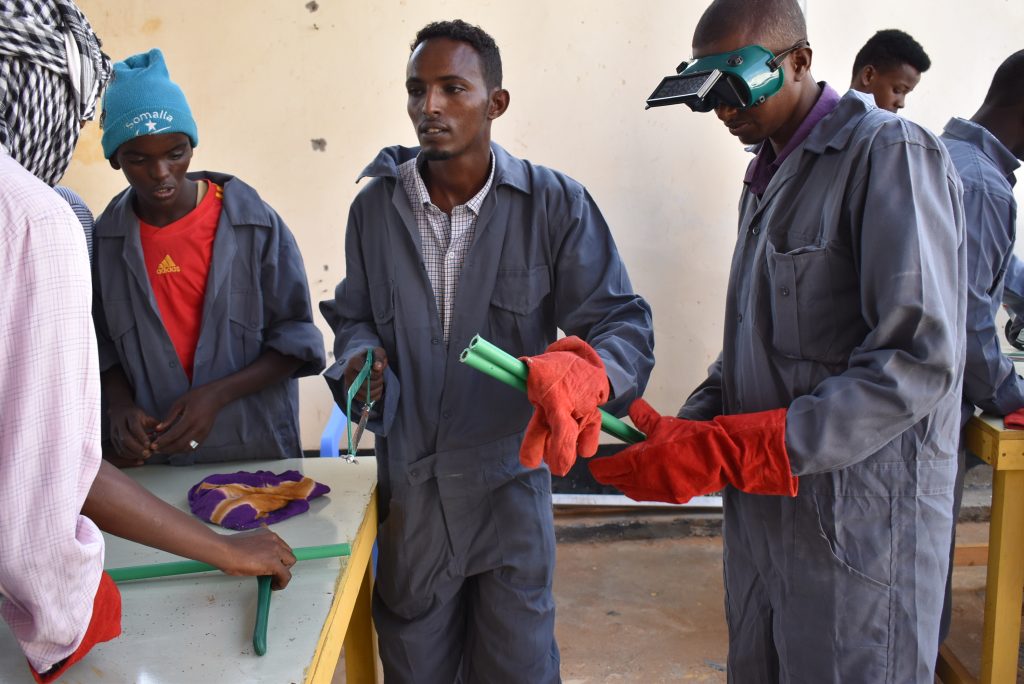 "I was at home, with no job. I felt stressed and felt like there was no way that I could get a source of income. But when I started this course, I felt there was hope. There is hope because there is a market for plumbing. The teachers have also realized this, otherwise, they will not teach it to us. The opportunity has been good because we also practice what we were taught. This means that we *work while learning. We get at least US$ 15 when we get some work done. This has really boosted and motivated us."
*The youth were grouped in different trades (skills/courses) and have been undertaking WASH related works at different locations supported by ADRA.
Soap Making
18-year-old Ayun Mohamed and 30-year-old Farduso Hassan are grateful for studying soap making and henna application. The two resoundingly agree that henna skills will give them more money than soap making.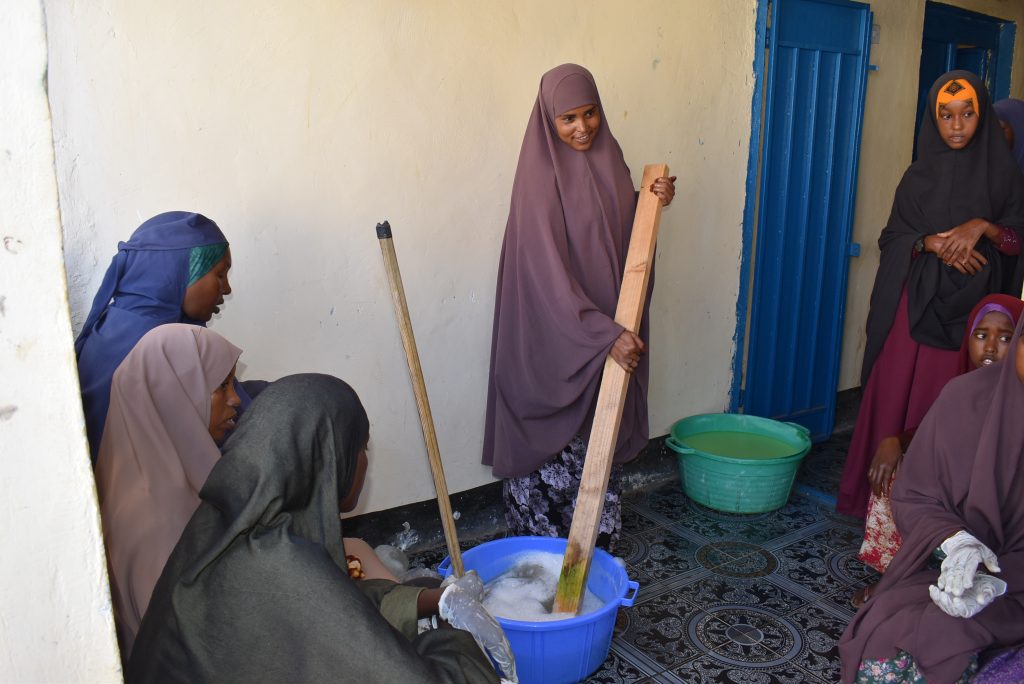 "When we started this class, we didn't know anything about soap making or henna. But now we know how to make liquid soap and draw some henna designs. We took this course because it is the simplest job that a lady can do and get quick business, especially with applying henna. With soap making, the 5-litre bottle, in the market is US$ 5. This is the same price that we will sell our soap. For henna application, there are many ladies, who want the henna during various occasions, and we will charge USD$25 for the henna both for hands and legs."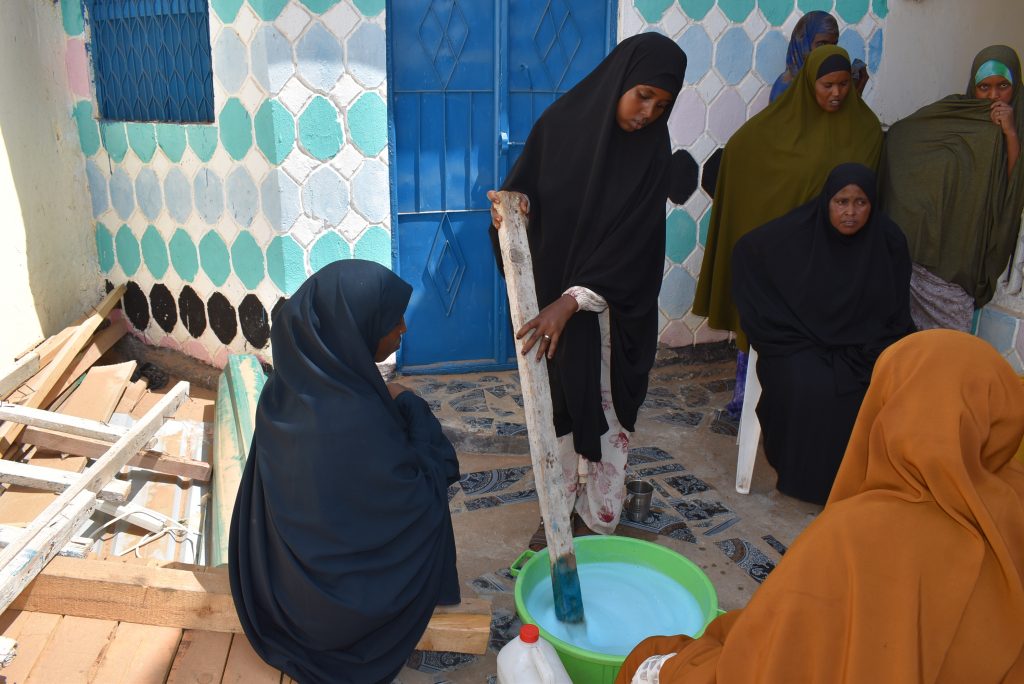 The Youth Engagement in WASH Services (YEWS) project was aimed at increasing community access to WASH services and youth engagement through water, sanitation and hygiene vocational training and work in IDP settings in Kismayo, South Central Somalia. The project targeted the great Dalxiiska IDP camp in Kismayo District with an estimate population of 52,950 persons and the outlying villages in Kismayo.