For girls at Mohamed Jama Primary School in Kismayo, it was never a question of "I want to relieve myself" but of "where and when can I relieve myself?"
"We had a few latrines and they were in a poor state," states 11-year-old Fartun a class five pupil at the school.
According to the school principal, Mr. Muktar Hassan Abdikani, there were no enough toilets for the 300 pupils in the school.
Lack of proper toilets interfere with children's education especially girls.
"Most girls would stay the whole day without going to the toilet until we went home," states Fartun.
Recognizing these challenges as some of the issues affecting girls in school, ADRA through the SEAQE (Strengthening Equity, Access and Quality in Education) project partnered with the school and helped construct six toilets for boys and girls.
SEAQE is a NORAD funded project, implemented by ADRA Somalia and seeks to increase education opportunities for poor and marginalised children in Somalia. The project focuses on youth engagement and empowerment including education, vocational training and employment promotion services.
"We now have suitable toilets for boys and girls," says the principle.
Fartun appreciates what ADRA has done for the school.
"I want to thank ADRA, because of the new latrines that we have," she says.
Fartun's story and the girls in the school has now changed from "where and when can I relieve myself" to "I want to relieve myself."
"We now have latrines for both boys and girls. Now we all have access to the latrines," she happily says.
Aside from the construction of the latrines, the schools' 12 classrooms were also rehabilitated.
"The classes were leaking and during the rainy season, it was difficult for the pupils to study, "says Muktar.
"The learning environment is now suitable," says Muktar. "Boys and girls have a good separate toilet, and they also get books. Ramps were also constructed for the disabled children for easy access to the classrooms and teachers get incentives."
With all the improvements, the school population has now increased from 300 to 738 pupils.
"Because of the high number of students, we now have two learning shifts. Class 5-8 learn in the morning and class 1-4 learn in the afternoon," he says.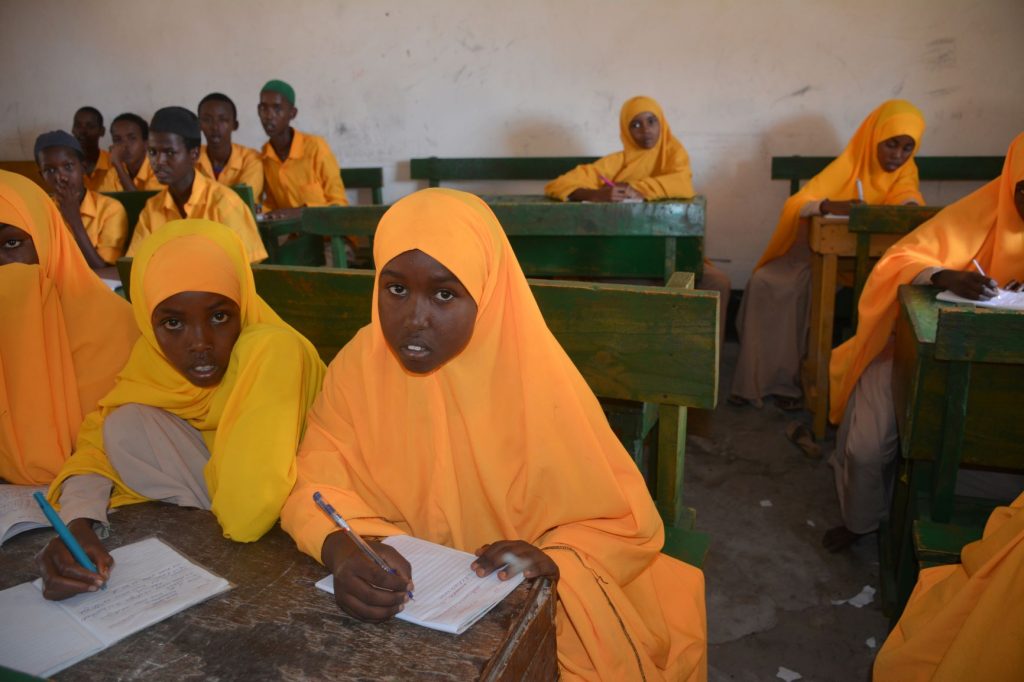 Fartun's zeal for education is also evident.
"I love education because an educated woman is a person who contributes to her community, becomes a role model in the society and takes good care of her family and children," she says.
"Education is light and a door for one to achieve their goals," she adds
And her goal is one; to help her community
"I want to be a doctor so that I can help those who are sick."
Her favourite subjects are English and Science. "English because it is a language used worldwide and science because it will help me become a doctor," she states as a matter of fact.